About The Band:
From sometime in 1965 to sometime in 1976, there existed a chain of night clubs known as Your Father's Mustache. The Mustache clubs were known for their sing-along bands, crazy waiters and bartenders, Schlitz Beer, and antique fire trucks.

In 1965, the Denver Your Father's Mustache night club opened in Larimer Square and a band was formed. At that time, Larimer Square was not known as the best area in Denver. No respectable person would show their face in that part of town, so of course this was where the musicians gathered! Between 1965 and 1975 a variety of musicians took their place in the band; for many, the club was their first gig. Several of the current band members met at the Mustache club and have played together since then. Among those were three CU music students: Joe Petrucelli, Craig Hugo, and Ray Leake.

In 1975, the Denver club closed its doors. The band was re-organized and began playing in the Colorado mountain sky communities where they continue to perform today. The band has changed faces throughout the years. Members have come and gone and come back again! When bandleader Joe Petrucelli's sons, Nick & Jason, joined the band, we found that our music had transcended the generations.

For more than 40 years Your Father's Mustache Band has been a mainstay in the Denver Jazz scene.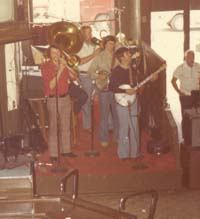 The original band included (L to R): Harold "H" Johnson on trombone, Dane Calkins on
tuba, Mike Johnson on washboard/drums, John Mumford on banjo, and Joe Petrucelli
on banjo. Current band members include: Joe Petrucelli on banjo, Andrew Vogt on
reeds, Roger Johns on bass, Jason Petrucelli on trombone, Ray Leake on piano, Jim Moore / Nick Petrucelli on drums, Charlie Smith on trumpet, and Mike Johnson on washboard.
---